Bellett Chemical Co., Ltd.
-
Company Profile
  Beilite Chemical Co., Ltd was built up on May 2007. It is a young personal enterprise which is a young technology-oriented and export-oriented private enterprise. This company has also been a leader company, both of the characteristic advantage industry in Ningxia area and the cyanamide industry, at the same time this company is a national high-tech enterprise. Beilite Chemical Co., Ltd had begun the joint-stock reform at June 2015, and then had public listing transfer in the national share transfer system successful at March 2016. Beilite Chemical Co., Ltd is preparing for IPO right now.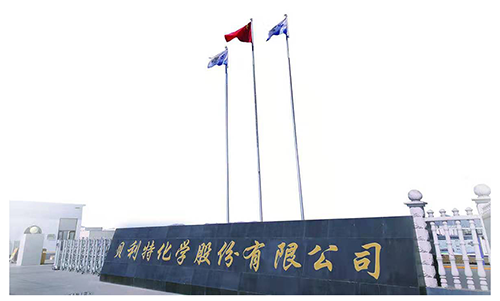 Belite Chemical Co., Ltd. has 710 employees, covering 678 mu, with a total assets of 480 million yuan. There're 2 wholly-owned subsidiaries and 4 production plants which are belong to Beilite Chemical Co., Ltd. Totally 12 production lines are in the Beilite's production system. The production capacity of Beilite is on below:
①High quality calcium cyanamide: 100,000 mt/y.
②Refined dicyandiamide (99.5%): 35,000 mt/y.
③Guanidine nitrate: 20,000 mt/y.
④Nitroguanidine: 15,000 mt/y.
⑤Refined dicyandiamide (99.8%): 8,000 mt/y.
⑥2-Nitroaminoimidazoline: 8,000 mt/y.
⑦1-Methyl-3-Nitroguanidine: 6,000 mt/y.
⑧3,6-Dihydro-3-Methyl-N-Nitro-2H-1,3,5-Oxadiazin-4-Amine: 6,000 mt/y.
⑨Ethyl N-Cyanoethanimideate: 3,000 mt/y.
⑩Thiazole: 5,000 mt/y.
Beilite has had the resource advantage of the circular economy industrial chain on cyanamide and cyanamide's downstream products preliminary.
  Beilite's products are applied to different applications, including but not limited to pesticide, medicine, printing and dyeing, paper making, environmental protection, new materials, electronic technology, aerospace applications. Beilite's customers are come from more than 50 different countries and areas (Including but not limited to Shanghai city, Zhejiang, Jiangsu, Shandong and the other provinces in China, and the United States, France, Germany, Italy, Turkey, Japan, India, Spain). Beilite has more scale advantage and competitive advantage on the products quality than the other competitors.