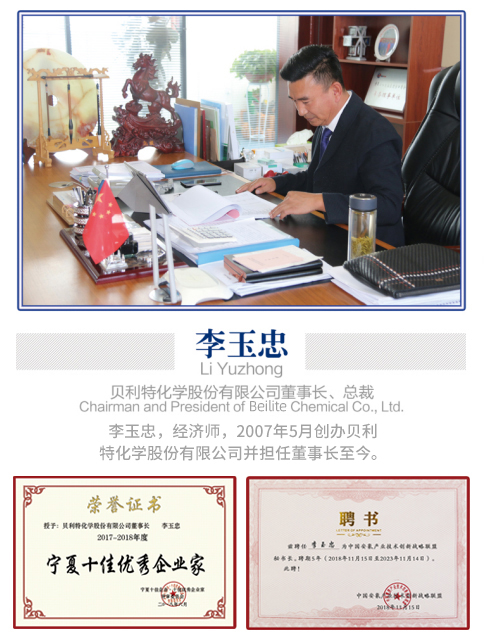 Time files.
  Beilite people's burning passions, the sweat of effort and the innovative wisdom are condensed in the great development process of the company. Through exploring to everywhere of the market, Beilite has become to a leader company of the cyanamide industrial right now, and also has been a national high-tech enterprise.
  We are persistent, we are pursuing. Beilite people will start the new journey of the cause by the pioneering spirit and we will never give up. Our enterprise spirit is: Always self-improvement, always striving, never give up, to be the best brand. We are looking forward to a beautiful future, it looks like the view we get when we stand on the top of the mountain and face to the sunshine. The core value of our company is: Keeping high margin for the enterprise, Creating the wealth for the society, Making the dreams of our employees become true. For supporting sustainable positive power to the development of our company, we will build up good business resource outside of the company and we will also keep the strict control style inside of our company.
  The period is developing, the market is changing, our company is improving day by day. We are following the development of the period at this present. We're faith to our operating idea of enterprise which can be described as: Safety focusing, high appreciate on integrity, specification of management, innovation and development. We'll follow the development of the period closely, and lead the trend of the market, we want to be better and stronger, we'll try our best to keep the good quality sustainable development of our company.
  There always gratitude in our heart. The supports and concerns of the friends who are come from different parts of this society make us to have such a good achievement and such enough confidence to be better and stronger in the process of development. Now, every Beilite people want to show our gratitude to every friend who have support to Beilite and cooperated with Beilite. Hopefully that you could give your supports and concerns to us as same as you've done in the past time.   
  We're looking forward to get cooperation and get both-win with our cooperators. We are doing effort to build up the best ecosphere of the cyanamide industrial, and we also want to be the strongest competitor in the market of the intermediates supplying and original drug supplying. We don't only want to compete with the others, but also want to get more cooperation. We are willing to face to the different situations with our cooperators together, will to get development together. Please believe that Beilite is not only your cooperator, but also is your most loyal friend who is always valuable to be trusted. Statement